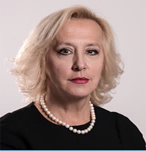 Nedžida Salihović-Whalen
Nedžida Salihović-Whalen is Attorney at Law in cooperation with CMS Reich-Rohrwig Hainz. She is admitted to the Bosnian bar and has worked as a corporate lawyer for local and international companies in Bosnia and Herzegovina for 20 years, during which she advised on commercial, banking and corporate matters. She advises foreign corporations in the areas of corporate, general commercial, employment and dispute resolution law. Additionally Nedžida Salihović-Whalen is a renowned specialist in the field of procurement.

She is experienced in setting up corporate and business structures in Bosnia and Herzegovina and regularly advises clients on the regulatory and commercial environment under Bosnian law. She also represents clients in litigation. Nedžida Salihović-Whalen was a member of several international legal working groups and took part in drafting laws regarding legal and economic reforms in Bosnia and Herzegovina.

Nedžida has an LLM from a University of Connecticut School of Law, United States of America and is currently admitted to the PhD programme at the University of Vienna. She holds a notary public exam certificate, is a delegate of the Assembly of the Bar Association of FBiH, and has been an examiner of the BiH Bar Exam Commission for commercial law for the past five years.

She fluently speaks Bosnian, Serbian, Croatian and English and has basic knowledge of Hungarian and French.