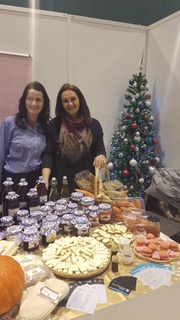 RCSID and " Little Women's Corner"
RCSID with pleasure supported, for the second year in the row, the participation of the Little Women's Corner at the Diplomatic Winter Bazaar.

The Association "Little Women's Corner" was established in September, 2017 and has more than 40 members. Members of the association are from the rural areas of the Municipality of Prozor. It is a special category of women, women victims of war, who during the war were sexually abused in their homes and in camps. All members are returnees. Given that it is a rural area, members of the association produce local organic products, such as: grape, pumpkin, blackberries, raspberries, cherries juices; raspberry, blackberry jams; sweet plum jam; ajvar; domestic tuna; domestic potatoes; young cow cheese; reduced fat cow's cheese; sheep cheese; dry cheese; garlic; onions; domestic apples; dry plum; brandy; dry blueberry; dry cranberries; walnuts. Apart from food, they make hand-made traditional Bosnian handicrafts such as sweaters; woolly winter popes; crochet tablecloths; cloths made of beads; knitted bags, crochet fruit baskets.